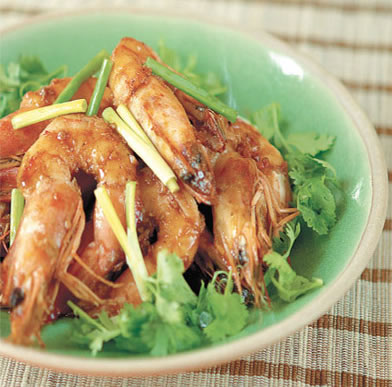 Ingredients:
Shrimps – 350 gms, peeled, deveined
Garlic – 1 clove, minced
Oil – 1 tblsp
Soy Sauce – 1/2 tblsp
Honey – 3/4 tblsp
Spring Onion – 1, chopped
For the marinade:
Chinese Rice Wine – 1/4 tblsp
Fish Sauce – 1 tsp
Ginger Juice – 1/2 tblsp
Black Pepper Powder – 1/2 tsp
Method:
1. Marinate the shrimps in the marinade for 30 to 45 minutes.
2. Heat oil in a large pan over high heat.
3. Saute the garlic till golden brown.
4. Add the shrimp with the marinade and stir-fry till the shrimps are just cooked, about a minute.
5. Add soy sauce and honey.
6. Stir-fry for a minute or two.
7. Add the spring onions and mix well.
8. Remove and transfer to a serving plate.
9. Serve hot with rice.