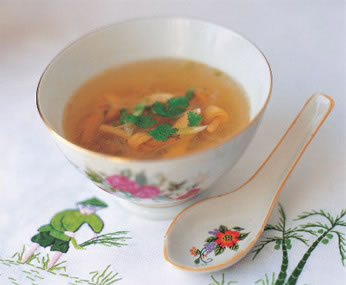 Ingredients:
Dried Glass Noodles – 60 gms, cut into medium pieces
Chicken Stock – 3 cups
Black Chinese Mushrooms (Wood Ear Fungus) – handful, soaked in water, sliced
Chicken Breast – 50 gms, pached, shredded
Fish Sauce – 1 tblsp
Black Pepper Powder – 1/4 tsp
Salt – 1/4 tsp
Coriander Leaves – few, to garnish
Method:
1. Heat a medium sized pot over high heat.
2. Add the chicken stock and wood ear fungus. Bring to a boil.
3. Add the shredded chicken pieces and bring to a boil again.
4. Reduce flame to medium and cook for 10 minutes.
5. Add fish sauce, salt and black pepper powder.
6. Stir.
7. Add the noodles and simmer for a minute.
8. Remove from heat and pour into individual serving bowls.
9. Garnish with coriander leaves.
10. Serve hot.