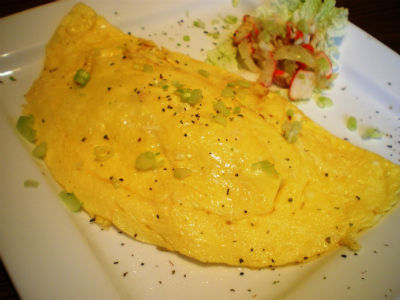 Ingredients:
Crabmeat – 1/2 cup, cooked
Eggs – 2, beaten
Fish Sauce – 1 tsp
Spring Onion – 1, small, sliced
Small Onions – 2, small, minced
Oil – 1 1/2 tblsp
Black Pepper Powder – a pinch
Coriander Leaves – few, chopped, to garnish
Method:
1. Heat 1/2 tblsp of oil in a pan.
2. Add the small onions and stir-fry for a minute.
3. Add the crabmeat and mix well.
4. Transfer to a bowl and add the eggs, fish sauce, spring onions and black pepper powder.
5. Mix well.
6. Add the remaining oil to the pan.
7. Pour the egg mixture and cook till light brown and crispy.
8. Cook the other side for 2 minutes and remove to a serving plate.
9. Garnish with coriander leaves.
10. Serve hot at once.