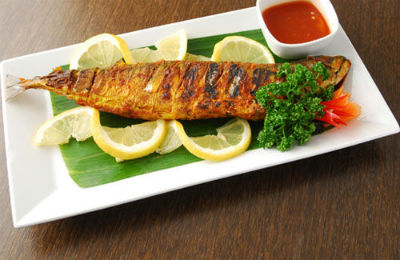 Ingredients:
Mackerel – 6, whole, cleaned, washed, dried, few incisions made
Salt – 4 tsp
Black Pepper Powder – 4 tsp
Sunflower Oil – 4 tblsp
Coriander Leaves – 6 tblsp, finely chopped
Lime Wedges

Method:
1. Make a few incisions on the mackerels.
2. Mix salt, pepper and oil in a bowl.
3. Rub this all over the mackerels.
4. Heat a grill to hot and place the mackerels.
5. Cook for 5 to 6 minutes on each side until cooked through.
6. Remove and sprinkle coriander leaves on top.
7. Serve hot with lime wedges.