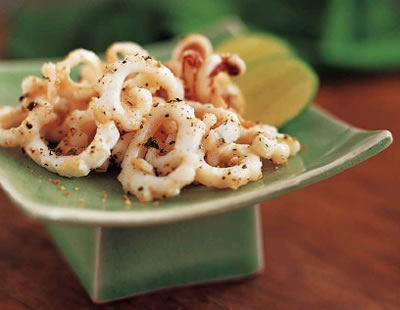 Ingredients:
Squid – 1, large, about 250 gms, washed, head and skin discarded, tentacles chopped
Black Pepper Powder – 1/2 tblsp
Sugar – 1/2 tsp, granulated
Cornstarch – 1/2 tblsp
Salt – 1/2 tsp
Lime Wedges to serve
Oil as required
Method:
1. Cut the squid body into small strips.
2. Dry the squid pieces.
3. Mix pepper powder, sugar and cornstarch in a bowl.
4. Add the squid pieces and mix well.
5. Heat oil in a pan over high flame.
6. Add squid pieces and fry till they curl up and lightly browned.
7. Ensure the pieces do not stick to one another.
8. Remove and drain excess oil.
9. Sprinkle salt and transfer to a serving plate.
10. Serve with lime wedges.