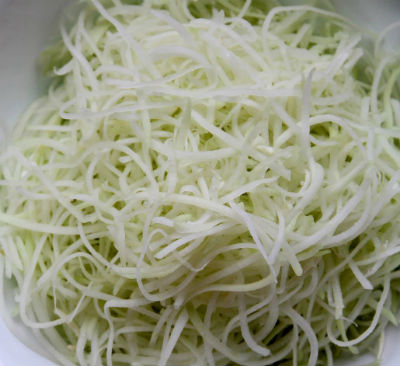 Ingredients:
Green Papaya – 1, small, firm, unripe, about 300 to 400 gms, skinned, halved, seeds discarded
Salt – 1 tsp
White Vinegar – 1 cup
Granulated Sugar – 1/4 cup
Method:
1. Cut the papaya flesh into long strips and transfer to a large bowl.
2. Sprinkle salt and keep aside for 45 minutes.
3. Drain the excess water and squeeze dry the papaya removing as much water as possible.
4. Put them into a large screwtop jar.
5. Meanwhile heat the vinegar in a pan over low flame.
6. Add sugar and dissolve it completely.
7. Remove the pan and cool.
8. Pour the vinegar mixture over the papaya and allow it to cool.
9. Cover the jar with a lid and store for 2 days.
10. Use as desired.
11. This stays good for a few weeks in the fridge.