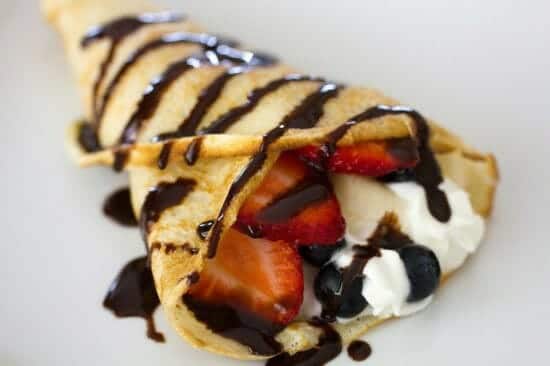 Ingredients:
Eggs – 2
Maida – 3/4 cup
Sugar – 1 tblsp, granulated
Milk – 1 1/2 cups
Oil – 1/2 tblsp
Mixed Fruit Jam – 1/4 cup
Icing Sugar as required
Chocolate Sauce as required

Method:
1. Beat the eggs in a large bowl.
2. Add the maida, sugar, milk and oil.
3. Beat well.
4. Heat a little butter in a frying pan over medium flame.
5. Pour a ladleful of the batter and swirl around.
6. Cook till the edges begin to lightly brown or start to curl.
7. Turn over and cook the other side for a minute or two.
8. Transfer to a serving plate.
9. Place a portion of the jam and spread well.
10. Roll the crepe and sprinkle with icing sugar.
11. Serve warm with chocolate sauce or pour the sauce on top.
image via justonecookbook.com