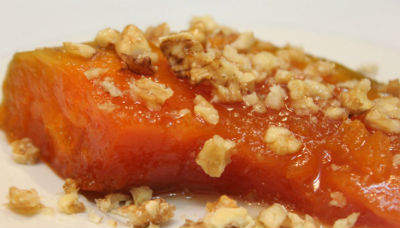 Ingredients:
Pumpkin – 900 gms
Sugar – 1 cup
Walnuts – 3/4 cup, finely chopped
Cream – 1/2 cup, to serve
Method:
1. Cut the pumpkin and scrape away the seeds and stringy bits.
2. Cut into chunks and remove the skin.
3. Now cut them into 1 inch cubes.
4. Place them in a large pan with 1/2 to 1 cup of water and cover with a lid.
5. Cook over low flame for 20 minutes or till tender.
6. Drain and mash the pumpkin pieces.
7. Cook till almost all the liquid evaporates.
8. Add sugar and cook till all the water has been absorbed.
9. Continue to stir and ensure it does not get burnt.
10. Spread on a plate and cover with plastic wrap.
11. Place it in the fridge overnight.
12. Garnish with walnuts.
13. Serve cold with cream.