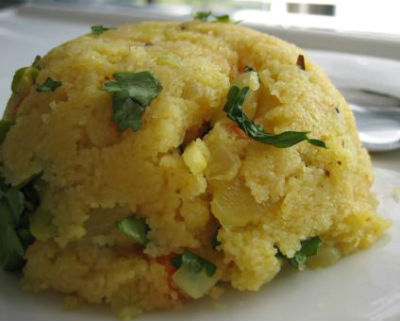 Ingredients:
Rava – 1 cup, roasted
Onion – 1, big, finely sliced lengthwise
Green Chillies – 2, slit
Green Peas – 1/2 cup
Ginger Garlic Paste – 1 tsp
Coriander Leaves – few, finely chopped
Mint Leaves – few, finely chopped
Coconut Milk – 1 1/2 cups
Lemon Juice – 2 tsp
Bay Leaf – a small piece
Cloves – 1
Cardamom – 1
Ghee as required
Salt as per taste
Oil as required
Method:
1. Heat ghee and oil in a heavy bottomed pan.
2. Add bay leaf, cardamom, cloves and saute for a minute.
3. Add the onions, green chillies, green peas and stir well.
4. Add the ginger garlic paste, coriander leaves, mint leaves and salt.
5. Stir till well combined.
6. Pour the coconut milk and 1 cup of water.
7. Bring to a boil.
8. Now add the rava, lemon juice and stir well.
9. Simmer for 10 minutes on low heat till most of the water has evaporated.
10. Remove and serve hot.
image credit: spice india online
Subscribe to our Newsletter
Receive the latest recipes & kitchen tips !