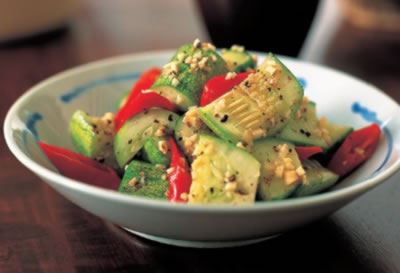 Ingredients:
Small Cucumbers – 250 gms, washed, quartered
Garlic – 1 tblsp, finely chopped
Salt – 1 tsp
Red Chillies – 2, small, sliced
For the dressing:
Sugar – 1/2 tblsp
Black Peppercorns – 1/4 tsp, ground
Vinegar – 1/2 tblsp
Sesame Oil – 1 tsp
Black Pepper Powder – 1/4 tsp
Method:
1. Marinate the cucumber pieces in salt for 15 minutes.
2. Ensure the cucumbers are evenly coated.
3. Rinse and drain.
4. Combine all the dressing ingredients and mix well.
5. Transfer the cucumbers to a serving bowl.
6. Add the garlic, red chillies and pour the dressing on top.
7. Stir to mix well.
8. Serve.