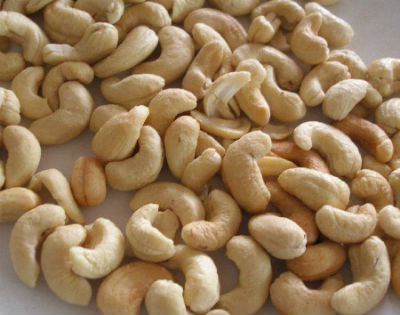 Ingredients:
Cashewnuts – 20
Almonds – 10
Cucumber Seeds – 1/4 cup
Roasted Gram – 1/4 cup
Kopparai (Dry Coconut) – 1/4 cup, grated
Dry Red Chillies – 6
Asafoetida Powder – 1/4 tsp
Curry Leaves – few, chopped
Salt as per taste
Oil as required
Method:
1. Dry roast the cucumber seeds, roasted gram and dry coconut separately.
2. Heat a little oil in pan.
3. Add the red chillies and asafoetida.
4. Fry lightly.
5. Add the cashewnuts, almonds and fry for 30 to 45 seconds.
6. Add the curry leaves and give it a quick stir.
7. Combine all the ingredients and add enough salt.
8. Grind to a coarse powder.
9. Mix with hot rice and ghee.
Note: image is for illustration purposes only and not that of the actual recipe.