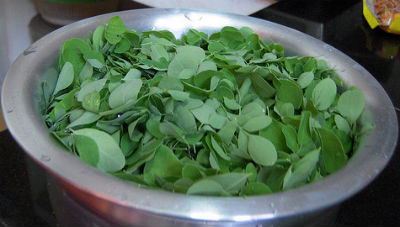 Ingredients:
Bengal Gram Dal – 100 gms
Dry Red Chillies – 2
Saunf – 1 tsp
Garlic – 2 cloves
Drumstick Leaves – 1 cup, washed
Roasted Gram Flour – 1 tblsp
Mustard Seeds – 1/2 tsp
Onions – 1, finely chopped
Curry Leaves – few, chopped
Oil as required
Salt as per taste
Method:
1. Soak the dal in water for 30 minutes.
2. Add dry red chillies, saunf, garlic and salt.
3. Grind coarsely and keep aside.
4. Heat a little oil in a pan.
5. Fry the mustard seeds till it starts to splutter.
6. Add onions and curry leaves.
7. Stir well.
8. Add the ground dal mixture, gram flour and mix well.
9. Now add the washed and chopped drumstick leaves.
10. Stir-fry for a minute.
11. Remove and serve.
Note: image is for illustration purposes only and not that of the actual recipe.