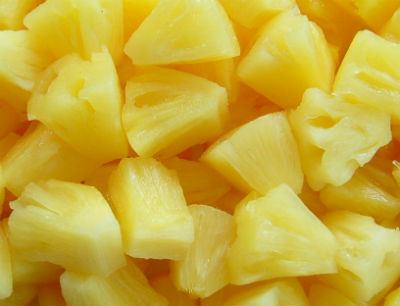 Ingredients:
Pineapple – 1 cup, cut into small pieces
Tamarind Extract – 1 small cup (or as required)
Jaggery – little
Dry Red Chillies – 4
Coconut – 1 tsp, grated
Urad Dal – 1 tsp
Fenugreek Seeds – 1/4 tsp
Sesame Seeds – 1 tsp
Salt as per taste

Method:
1. Dry roast the chillies, coconut, urad dal, fenugreek seeds and sesame seeds.
2. Remove and grind them to a fine powder.
3. Heat a pan over moderate flame.
4. Add the pineapple slices and pour enough water to cover them.
5. Add the tamarind extract, salt, jaggery and the ground powder.
6. Cook till it starts to boil.
7. Remove and serve as a side dish.
Note: image is for illustration purposes only and not that of the actual recipe.