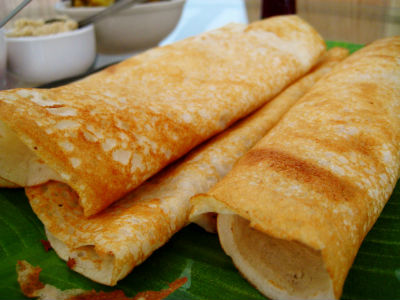 Ingredients:
Small Bhindi (Vendakkai) – 5 to 6
Parboiled Rice – 250 gms, soaked for an hour
Vendhiyam (Fenugreek) – 2 tsp, soaked
Urad Dal – 2 tsp, soaked
Oil – 100 ml
Salt as per taste
Method:
1. Combine the rice, fenugreek and dal.
2. Grind them together to a smooth paste.
3. Lightly mash the bhindis till mushy and grind.
4. Add this to the rice-dal-fenugreek batter and mix well with salt.
5. Heat a tawa over moderate flame.
6. Pour a ladleful of the batter and cook on both sides till golden.
7. Serve hot.
Note: image is for illustration purposes only and not that of the actual recipe.