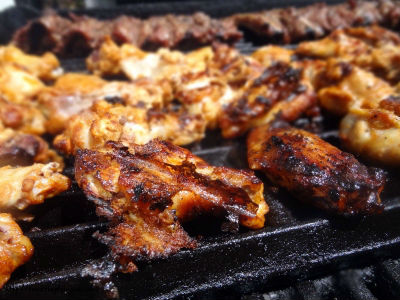 Ingredients:
Chicken Wings – 4 (about 500 gms), tips removed
Plain Yogurt – 1/2 cup, whisked until smooth
Cumin Powder – 1/2 tblsp
Garam Masala Powder – 1/2 tblsp
Red Chilli Powder – 1/2 tsp
Ginger – 1 two inch piece, peeled, minced
Juice of 1 Lemon
Garlic – 4 cloves, finely chopped
Salt as per taste
Method:
1. Combine the yogurt, cumin powder, garam masala powder, red chilli powder, ginger, lemon juice, garlic and salt in a bowl.
2. Marinate the chicken wings in this for 3 hours.
3. Ensure the wings are coated evenly.
4. Place the wings on a preheated grill and cook for 5 minutes on each side till firm and cooked.
5. Serve hot.
image credit: food.theplainjane.com