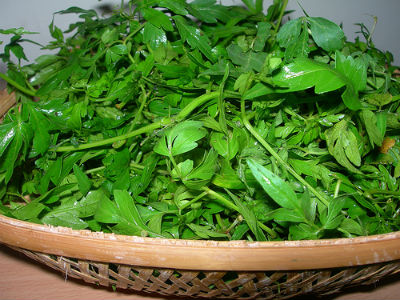 Ingredients:
Mudakathan Keerai – handful, chopped
Roasted Gram Flour – 1 cup
Rice Flour – 1 cup
Onions – 1, small, finely chopped
Red Chilli Powder – 1/2 tsp
Ginger – 1/2 inch piece, peeled, finely chopped
Oil – 250 ml
Salt as per taste
Method:
1. Combine the keerai, gram flour, rice flour, onions, red chilli powder, ginger and salt in a bowl.
2. Add enough water and mix well to a thick paste.
3. Heat oil in a pan over moderate flame.
4. Using a pakoda strainer or a small teaspoon or your fingers, drop little droplets of the batter into the hot oil.
5. Deep fry till golden and brown.
6. Remove and drain excess oil.
7. Serve hot as a snack.
Image credit: http://www.flickr.com/photos/kamalarsn/2380997769/
Note: image is for illustration purposes only and not that of the actual recipe.