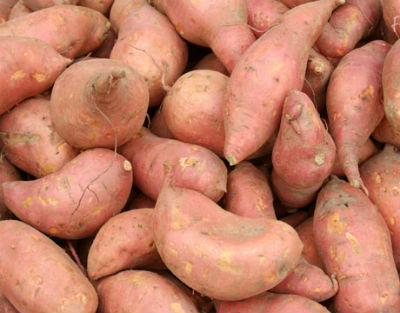 Ingredients:
Sweet Potato – 250 gms, washed, chopped into squares or cubes
Urad Dal – 1/2 tsp
Mustard Seeds – 1/4 tsp
Onion – 1, small, chopped
Red Chillies – 2
Cumin Seeds – 1/2 tsp
Coconut – 1/8 cup, grated
Salt as per taste
Oil
Method:
1. Grind together the chopped onions, red chillies, coconut, cumin seeds and salt.
2. Marinate the sweet potato pieces in this for 30 to 45 minutes.
3. Heat oil in a pan over moderate flame.
4. Saute the mustard seeds and urad dal.
5. Add the sweet potato pieces and cook over low flame.
6. Remove when all moisture has evaporated and the sweet potato is cooked.
7. Serve hot with rice.