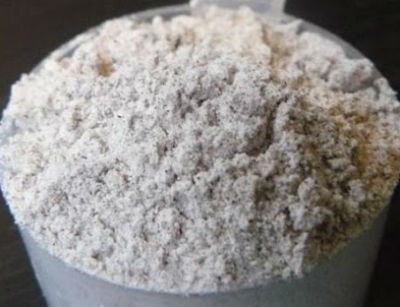 Ingredients:
Ragi Flour – 100 gms
Buttermilk – 500 ml, lightly sour
Mustard Seeds – 1/2 tsp
Urad Dal – 1/2 tsp
Asafoetida Powder – a small pinch
Oil – 6 tsp
Salt as per taste
Method:
1. Combine salt, ragi flour with buttermilk.
2. Mix well.
3. Heat oil in a pan.
4. Fry the mustard seeds, urad dal and asafoetida powder.
5. Pour the ragi buttermilk mixture.
6. Cook till it has a thick batter consistency, stirring often.
7. Remove and keep aside for 8 hours.
8. To serve, mix 1/2 cup of butter milk with 1/2 cup of the porridge.
9. Serve with chopped green chillies and onion.
10. This makes a healthy breakfast.
Tip: Dilute the porridge as required.
Note: image is for illustration purposes only and not that of the actual recipe.