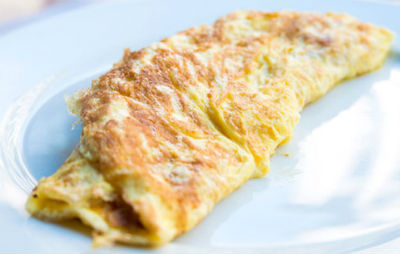 Ingredients:
Eggs – 6
Apple – 2, peeled, finely sliced
Butter – 2 tblsp, unsalted
Cinnamon – 1 tsp
Brown Sugar – 2 tblsp
Cream – 2 tblsp
Sour Cream – 2 tblsp

Method:
1. Heat 3 tsp of butter in a pan.
2. Saute the sliced apples, brown sugar and cinnamon till tender.
3. Transfer to a bowl and keep aside.
4. Combine the eggs and cream and whisk till fluffy.
5. Melt the remaining butter in a pan.
6. Pour the egg mixture and cook.
7. Turn them over and add sour cream to the center.
8. Spoon the apple-cinnamon mixture and cook till done.
9. Transfer to a plate and serve.
Note: image is for illustration purposes only and not that of the actual recipe.