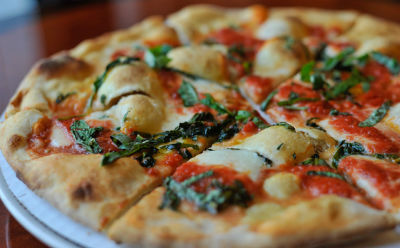 Ingredients:
Pizza Dough – 700 gms
Garlic – 2 cloves, minced
Tomatoes –  1 cup, pureed until smooth
Mozzarella Cheese – 250 gms, torn or finely sliced or grated
Basil Leaves – few, torn
Corn Flour – for sprinkling
Red Chilli Flakes
Salt
Method:
1. Sprinkle corn flour on a baking sheet and keep aside.
2. Mix together the tomatoes, a pinch of red chilli flakes, two to three pinches of salt and garlic.
3. Place half of the dough on the baking sheet and stretch to fill it.
4. Spread the tomatoes and mozzarella cheese on top.
5. Place the tray in a preheated oven and bake for 8 to 10 minutes until bubbly and lightly browned on top.
6. Garnish with basil leaves.
7. Cut into slices and serve hot.

This recipe makes 2 pizzas.