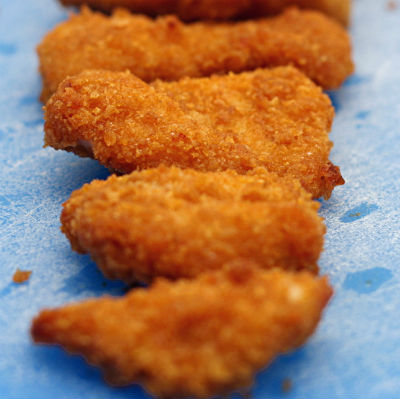 Ingredients:
Chicken – 900 gms, cut into bite-sized pieces, excess fat and skin removed
Butter – 1/8 cup, melted
Buttermilk – 1/4 cup
Dijon Mustard – 1 tblsp
Corn Flour – 1/4 cup
Maida – 1/4 cup
Pepper Powder – 1/8 tsp
Salt as per taste
Method:
1. Whisk the dijon mustard and buttermilk together in a bowl.
2. Combine corn flour, maida, salt and pepper in a flat dish.
3. Dip the chicken pieces in the buttermilk mixture and then roll them in the flour.
4. Roll to coat evenly.
5. Place the chicken pieces in a baking dish with the butter and coat well.
6. Place the dish in a preheated oven at 400F and bake for 30 minutes.
7. Turn over and bake for another 30 minutes, until chicken is no longer pink in the center.
8. Remove and serve hot.