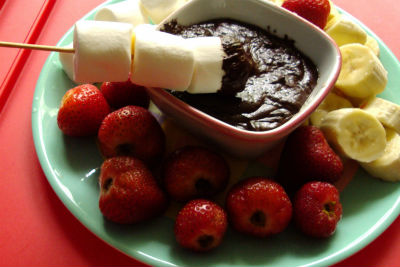 Ingredients:
Dark Chocolate – 175 gms, chopped
Cream – 150 ml, thick
Butter – 1 tblsp, unsalted
Mixed Fruits – 3 1/2 tblsp, chopped (apples, bananas, pineapples, strawberries etc.)
Marshmallows – 3 tblsp
Method:
1. Heat a pan over low flame.
2. Add the cream and heat through.
3. Combine the cream and dark chocolate in a bowl.
4. Keep aside for 2 minutes and whisk well.
5. Add butter and whisk again.
6. Transfer the mixture to a small bowl with a decorative candle underneath.
7. Serve with the marshmallows and mixed fruits.
Note: If the fondue is not thick, then you can omit the candle. The candle is required to keep the chocolate in a semi-liquid state so that it can be used a dipping sauce.