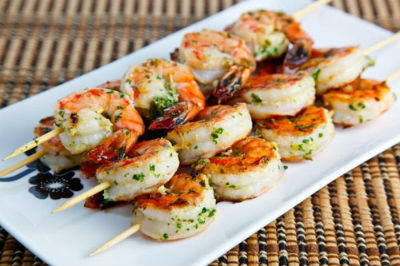 Ingredients:
Jumbo Shrimps – 8, shelled, deveined
Extra-Virgin Olive Oil – 1/8 cup
Juice of 1/2 Lemon
Lemon Zest – 1/2 tsp, finely minced
Thyme – 1 tsp, minced
Black Pepper Powder as per taste
Garlic – 1 clove, minced
Method:
1. Combine olive oil, lemon juice, lemon zest, garlic and thyme in a bowl.
2. Mix well and marinate the shrimp in this for 1 to 2 hours.
3. Thread the shrimps onto wooden skewers and sprinkle pepper powder on top.
4. Place them in a preheated grill and cook till pink, about 3 minutes.
5. Turn them often and keep brushing them with the marinade.
6. Remove and serve hot with lemon wedges.