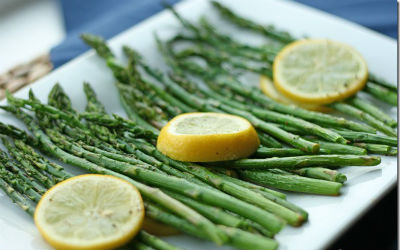 Ingredients:
Asparagus – 225 gms, washed, trimmed
Olive Oil – 1/2 tblsp
Lemon Juice – 1 tblsp
Sea Salt as per taste
Black Pepper Powder as per taste

Method:
1. Combine all the ingredients and add the asparagus.
2. Toss well to coat well.
3. Transfer the asparagus to a baking tray.
4. Bake for about 15 minutes or until al dente in a preheated oven at 190C/375F.
5. Remove and serve warm.
image credit: fit house wife