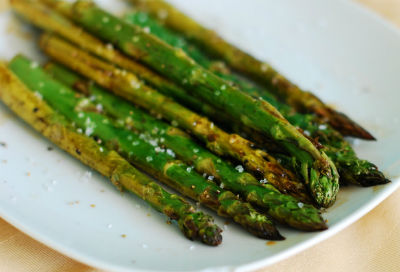 Ingredients:
Asparagus – 225 gms, washed, trimmed
Balsamic Vinegar – 1 tblsp
Sea Salt – 1/2 tblsp
Ground Black Pepper as per taste
Method:
1. Arrange the asparagus on a baking tray lined with parchment paper.
2. Drizzle the vinegar and oil
3. Sprinkle salt and pepper.
4. Place the tray in a preheated oven and bake for 15 minutes at 190C/375F.
5. Remove and serve warm or at room temperature.