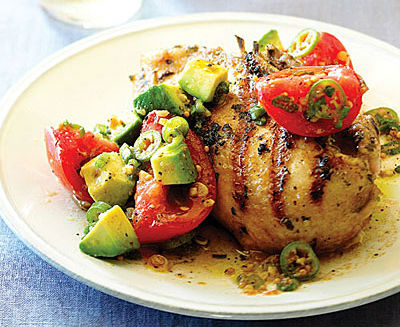 Ingredients:
Chicken Breasts – 250 gms, boneless, skinless
Tomato – 4 cups, diced
Avocado – 2, diced
Coriander Leaves – 1 cup, chopped
Lime Juice – 8 tblsp
Sunflower Oil – 4 tsp
Sea Salt as per taste
Black Pepper Powder as per taste

Method:
1. Heat a flat pan over moderate flame.
2. Add the chicken breasts with 4 tblsp lime juice and oil.
3. Stir for a minute and remove.
4. Keep aside for 10 minutes.
5. Cook the chicken breasts on a preheated grill for 6 minutes each sides or cooked through.
6. Combine the tomato, avocado, coriander leaves, remaining lime juice, salt and pepper.
7. Mix well and spoon it over the chicken.
8. Serve at once.
image credit: sunset