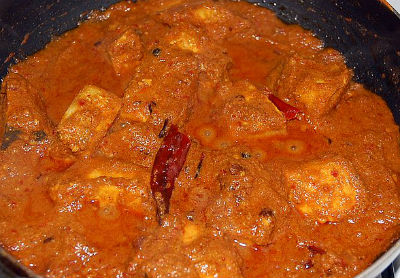 Ingredients:
Fish Fillets – 350 gms
Juice of 1/2 Lemon
Sesame Oil – 2 tblsp
Onions – 4, grated
Salt as per taste
Vinegar – 1/2 tblsp
Tomatoes – 2, ripe, pureed
Salt as per taste
Sugar as per taste
Grind to a paste:
Garlic – 4 cloves
Dry Red Chillies – 4
Cumin Seeds – 1 tsp
Vinegar – 2 tsp
Method:
1. Mix salt and lemon juice in a bowl.
2. Marinate the fish fillets in this for 30 minutes.
3. Heat oil in a pan.
4. Saute the onions till brown.
5. Add the ground masala paste and mix.
6. Add the marinated fillets and simmer till tender.
7. Add the tomato puree, vinegar, salt and sugar.
8. Mix well and cook for 45 seconds.
9. Remove and serve hot with rice.
Note: image is for illustration purposes only and not that of the actual recipe.