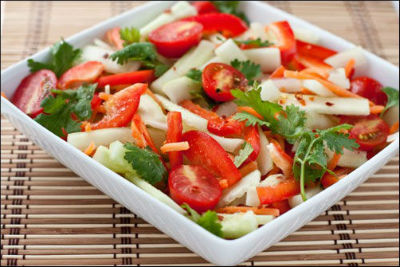 Ingredients:
Cucumber – 1, peeled, thinly sliced
Ice Cubes – 5
White Wine Vinegar – 2 tblsp
Sour Cream – 5 to 6 tblsp
Mint Leaves – 2 tblsp
Tomatoes – 4, sliced
Salt as per taste
Black Pepper Powder
Method:
Keep the cucumber in a bowl.
Sprinkle little salt and 1 tblsp vinegar.
Toss with the ice cubes and chill for an hour.
Rinse, drain and pat dry.
Return to the bowl.
Add the cream, pepper powder and mint leaves.
Stir to mix well.
Arrange the tomato slices on a plate.
Sprinkle the remaining vinegar and spoon the cucumber slices into the centre.
Serve.