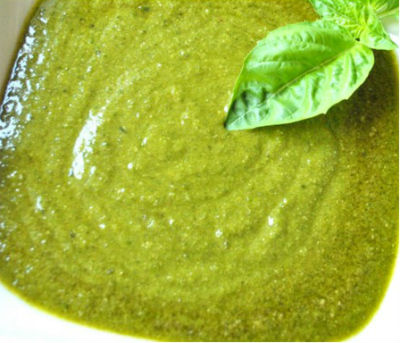 Ingredients:
Basil Leaves – 1, large bunch, chopped
Garlic – 3 cloves, peeled
Pine Nuts – 2 tblsp
Parmesan Cheese – 1 1/2 cups, grated
Sea Salt – 1/2 tsp
Extra-Virgin Olive Oil – 3/4 cup
Method:
Mix the basil leaves, garlic, pine nuts, cheese and salt.
Grind until well mixed.
Blend while slowly add enough oil to make a thick, bright-green sauce.
Use as required.
Tip: If keeping the pesto for a few days, omit the cheese during preparation and stir it in just before serving.