A popular appetizer/light meal, this salad is made with apples, grapes, walnuts in a mayonnaise dressing and served on a bed of lettuce.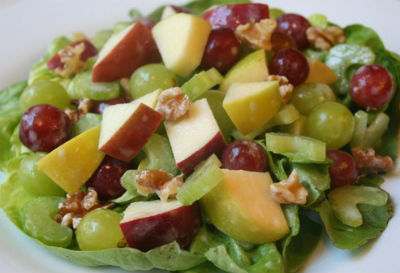 Ingredients:

Green Apple – 1, seeds removed and cut into chunks
Red Apples – 2, seeds removed and cut into chunks
Celery Stalk – 2, sliced
Mayonnaise – 3/4 cup
Lemon Juice – 2 tsp (optional)
Honey – 1/4 tsp (optional)
Lettuce Leaves – few, chopped
Walnut – 1/2 cup, halved
Method:

Mix the apples, celery and mayonnaise in a bowl.
Add the walnuts.
Mix well.
Place the lettuce leaves on a serving bowl or plate.
Place the salad on top of the lettuce.
Serve.