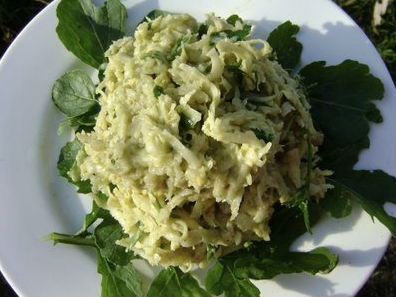 Ingredients:
Celeriac – 1, peeled, cut into fine sticks
Anchovy Fillets – 2, chopped
Capers – 1 1/2 tblsp, chopped
Dijon Mustard – 2 tsp
Black Pepper Powder
Salt
Lemon Juice
Fresh Herbs – 3 tblsp, chopped (basil, parsley, tarragon)
Mayonnaise – 1 cup
Chives for garnish
Method:
Place the celeriac sticks in a bowl.
Add a squeeze of lemon juice.
Add a large pinch of salt and cover with cold water. Keep aside.
Add the herbs into the mayonnaise.
Add the anchovies, capers, mustard, salt and pepper.
Drain the celeriac and dry.
Stir the dressing through the celeriac.
Garnish with chives.
Serve.