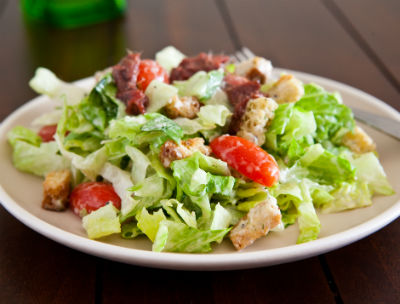 Ingredients:
Olive Oil – 10 tblsp
Garlic – 2 cloves
White Bread – 5 slices, crusts removed and cut into 1/2 inch cubes
Egg – 1
Little Gem Lettuces – 3
Lemon Juice – 2 tblsp
Anchovy Fillets – 8 canned, drained and roughly chopped
Salt and Pepper
Fresh Parmesan Cheese – to serve
Method:
Bring a small, heavy-based saucepan of water to the boil.
Heat 5 tblsp of olive oil in a heavy-based frying pan.
Add the garlic and diced bread and cook, stirring and tossing frequently, for 5 minutes or until the bread is crispy and golden all over.
Remove from the frying pan with a slotted spoon and drain.
While the bread is frying, add the egg to the boiling water and cook for a minute.
Remove from the saucepan and reserve.
Arrange the lettuce leaves in a salad bowl.
Mix the remaining olive oil and lemon juice together, then season to taste with salt and pepper.
Crack the egg into the dressing and whisk to blend.
Pour the dressing over the lettuce leaves, toss well.
Add the chopped anchovies, garlic croutons and toss the salad again.
Sprinkle with parmesan cheese shavings and serve.