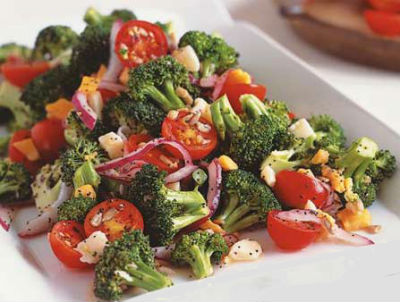 Ingredients:
Broccoli Florets – 3 cups
Tomato – 1, wedged
Balsamic Vinegar – 1 tblsp
Olive Oil – 2 tblsp
Salt as per taste
Dried Oregano as per taste
Method:
1. Steam cook the broccolis till tender and keep aside.
2. Sprinkle a very tiny pinch of salt over the tomatoes.
3. Combine the olive oil, vinegar, salt and oregano in a bowl.
4. Mix the broccoli and tomatoes together.
5. Add the dressing and mix well.
6. Serve.