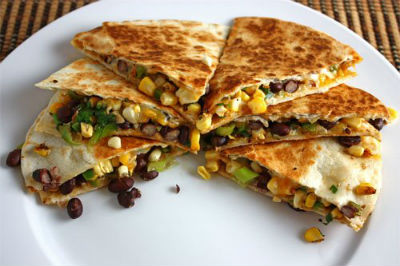 Ingredients:
Plain Tortillas – 4
Four-Cheese Mexican Cheese Blend – 1 cup, shredded
Black Bean and Corn Salsa – 3/4 cup
Avocado – 1, small, seeded, peeled, sliced
Sour Cream to serve
Method:
1. Sprinkle cheese on one half of the tortillas.
2. Add 1/2 tblsp (or more) and top with avocada slices.
3. Fold the tortialls in half and press lightly.
4. Heat a large pan over medium flame.
5. Cook the quesadillas for 2 minutes until light brown and cheese has melted.
6. Cook on both sides and transfer to a baking tray.
7. Place the tray in a preheated oven at 300F to warm the quesadillas for 45 seconds.
8. Cut the quesadillas into wedges or halves.
9. Serve with any remaining salsa and sour cream.
Note: Four-Cheese Mexican Cheese Blend is a mixture of Cheddar, Monterey Jack, and Mozzarella with some mexican seasoning. If you are unable to get this, then mix shredded cheddar and mozzarella cheeses with some black pepper powder, and cumin powder.