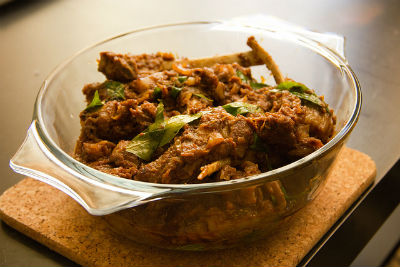 Ingredients:
Lamb – 500 gms, chopped
Water – 1/2 cup
Red Chilli Powder – 1 tsp
Asafoetida Powder – a small pinch
Ginger Powder – 3/4 tsp
Oil – 1/4 cup
Salt as per taste
Method:
1. In a heavy bottomed pan add water, oil, salt and asafoetida.
2. Add the lamb pieces and cover with a pan.
3. Increase flame to high and cook for 10 to 15 minutes.
4. When the liquid dries up, reduce the flame and cook till it is deep brown and little crisp.
5. Stir from time to time.
6. Add red chilli powder, 3 to 4 tsp water and stir well.
7. Now add the ginger powder and stir well for a few minutes.
8. Remove and serve hot with rice.
Note: image is for illustration purposes only and not that of the actual recipe.