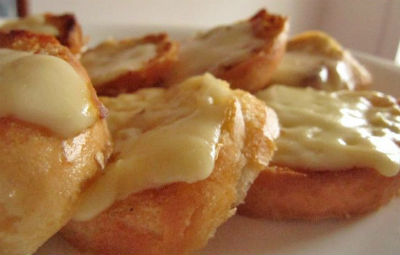 Ingredients:
French Bread – 1 small loaf, sliced
Butter – 4 tblsp, unsalted, soft
Garlic Salt – 1/2 tsp
Cheddar Cheese – 3/4 cup, shredded
Mint Leaves – few, chopped
Method:
1. Apply butter on the bread slices.
2. Sprinkle some salt, mint leaves and cheese.
3. Transfer the bread slices to a greased baking sheet.
4. Bake in a preheated oven at 350F/175C for 3 to 4 minutes, until the cheese is melted and the bread is golden.
5. Remove and serve hot as an appetizer.
image credit: julia