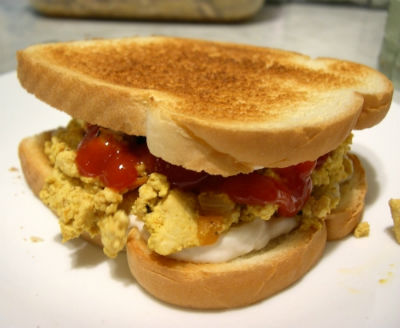 Ingredients:
Eggs – 4, large
Butter – 2 tsp, unsalted
Milk – 2 tblsp
Salt as per taste
Black Pepper Powder as per taste
Bread Slices – 4, toasted
Tomato – 1/2, sliced
Lettuce Leaves – few
Cheddar Cheese – grated
Method:
1. Heat butter in a small pan over medium flame.
2. Beat the eggs with milk along with salt and pepper powder well.
3. Pour this into the pan and cook tilting the pan so that there is no liquid left.
4. Turn off the heat and gently stir and turn till all the egg is cooked and it becomes firm.
5. Transfer to a plate.
6. Place the scrambled egg on one bread slice.
7. Top with tomato slices, grated cheddar and lettuce leaves.
8. Cover with the other slice.
9. Serve.
10. This makes 2 sandwiches.