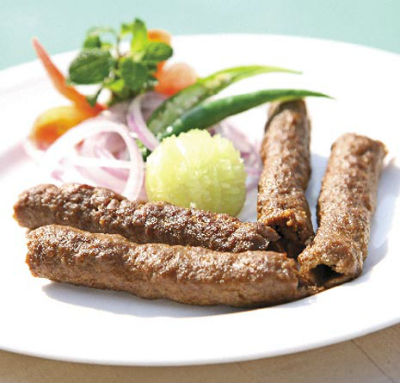 Ingredients:
Minced Lamb – 375 gms
Ginger Garlic Paste – 1/2 tsp
Cashew Paste – 2 tblsp
Poppy Paste – 1/2 tblsp
Garam Masala Powder – 1/2 tblsp
Yellow Chilli Powder – 1/2 tblsp
Ghee – 1 tblsp
Salt as per taste
Melted Butter
Method:
1. Combine all the ingredients, except butter, with the lamb and mix well.
2. Shape the mixture into balls of equal size.
3. Skewer the balls and shape them along the length of skewer.
4. Place the skewers over a grill and cook for 3 to 5 minutes, rotating to ensure its evenly cooked.
5. Remove and baste with butter.
6. Cook over the grill for 2 more minutes.
7. Remove the kebabs from the skewer and serve hot with onion rings and chutney of choice.
image credit: akshay chavan