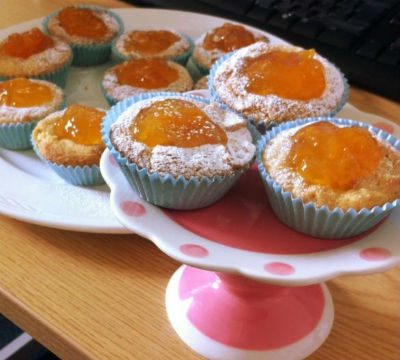 Ingredients:
Maida – 100 gms
Cornflour – 1 1/2 tblsp
Icing Sugar – 2 1/2 tblsp
Butter – 125 gms, soft
Apricot Jam
Icing Sugar for dusting
Fairy cake cases
Method:
1. Add the icing sugar and butter to a bowl.
2. Beat well until soft and fluffy.
3. Add the maida and cornflour.
4. Mix well until smooth.
5. Spoon the mixture into a large piping bag with a large star nozzle.
6. Fill the cake cases and place them on a bun tin.
7. Bake in a preheated oven at 180C for 15 minutes or until pale golden brown.
8. Remove and cool.
9. Top each cake with a little apricot jam and dust lightly with icing sugar.