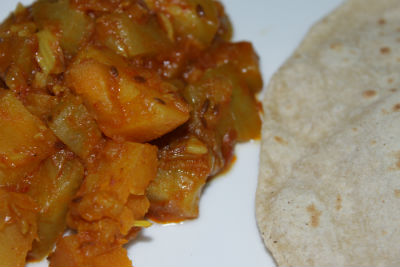 Ingredients:
Lauki (Bottle Gourd) – 500 gms, scraped, washed, cut into circles
Ginger Powder – 1/2 tsp
Hung Yogurt – 100 gms
Fennel Powder – 1/2 tsp
Garam Masala Powder – 1/2 tsp
Mustard Oil – 1/8 cup
Asafoetida Powder – a small pinch
Red Chilli Powder – 1/2 tsp, mixed with 1/2 tblsp water
Method:
1. Heat oil in a pan over low flame.
2. Add asafoetida powder and stir.
3. Add red chilli paste and stir for 10 seconds.
4. Add the lauki pieces and fry for a minute.
5. Add the ginger powder and yogurt.
6. Stir well and add the fennel powder, garam masala powder and salt.
7. Cover the pan with a lid.
8. Stir from time to time and remove when lauki is cooked but still firm.
9. Serve with rice or roti.