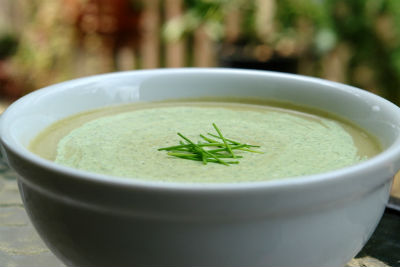 Ingredients:
Potatoes – 500 gms, peeled
Leeks – 225 gms, trimmed, chopped
Onion – 1, small, chopped
Vegetable Stock (or Water) – 3 cups
Butter – 2 tblsp
Salt as per taste
Black Pepper Powder as per taste
Method:
1. Place the potatoes, leeks, onions and vegetable stock into a large pan over moderate flame.
2. Add salt and pepper.
3. Bring to a boil.
4. Reduce the flame and cover with a lid.
5. Allow it to simmer for 15 to 25 minutes.
6. Take the potatoes out and put them in a bowl with the butter.
7. Mash well and transfer back to the pan.
8. Stir well and simmer for another 20 minutes.
9. Transfer to serving bowls.
10. Serve.

Tip: Adjust salt and pepper if desired.

Image credit: laylita