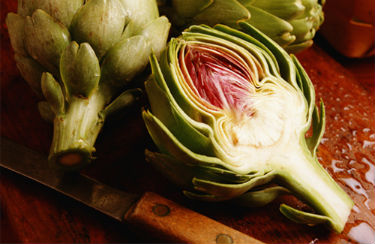 Ingredients:
Artichokes – 2, stems trimmed, hard outer leaves removed
Lemons – 2, small
Parmesan Cheese – 1 tblsp
Extra-Virgin Olive Oil – 1 tblsp
Balsamic Vinegar – 1/2 tblsp
Arugula Leaves – handful
Sea Salt as per taste
Black Pepper Powder as per taste
Method:
1. Place the tender, inner portion of the artichokes in a bowl.
2. Pour the 3/4th lemon juice over them.
3. Heat a pan of water over moderate flame.
4. Bring to a boil.
5. Add 1/2 tsp salt and remaining lemon juice.
6. Add the artichokes and cook until tender.
7. Drain and keep aside.
8. Once cool, quarter the artichokes.
9. Divide the arugula leaves and artichokes between 2 serving plates.
10. Sprinkle some cheese over each plate.
11. Drizzle olive oil and vinegar.
12. Season with salt and pepper.
13. Serve.
image credit: monday club