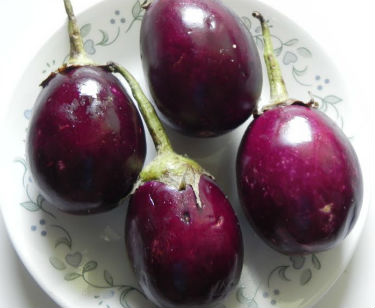 Ingredients:
Brinjals – 10
Garam Masala Powder – 1/2 tsp
Ginger Paste – 1 tsp
Tamarind Concentrate – 1 tsp
Garlic Paste – 1 tsp
Red Chilli Powder – 1 tsp
Oil – 100 ml
Salt as per taste
Method:
1. Score the brinjals without removing the stems and the base using a sharp knife. Do not cut all the way through. Just make small 1/4 inch deep incisions.
2. Combine the ginger paste, garlic paste, tamarind concentrate, garam masala powder, salt and red chilli powder in a bowl.
3. Stuff the brinjals with this mixture.
4. Heat oil in a pan over moderate heat.
5. Stir-fry the brinjals until cooked through.
6. Remove and serve hot with curd rice or with plain rice.
Tip: You can also serve this as a snack.
Note: image is for illustration purposes only and not that of the actual recipe.