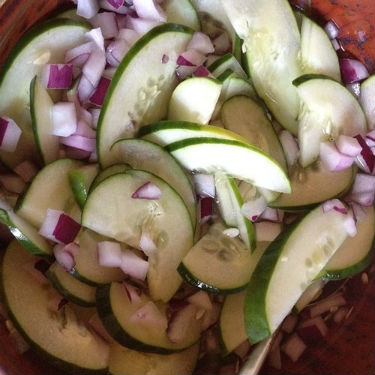 Ingredients:
Cucumber – 3, small, peeled
Small Onions – 1 1/2 tblsp, finely sliced
Green Chillies – 1 tsp, finely chopped
Sugar – 1/4 cup
Water – 1/4 cup
White Vinegar – 1/4 cup
Salt – 1/2 tsp
Method:
1. Heat a pan over medium flame.
2. Add the vinegar, water, sugar and salt.
3. Cook till the sugar and salt has dissolved.
4. Remove and keep aside to cool.
5. Cut the cucumber into strips and then into small triangles.
6. Place them in a bowl.
7. Add the green chillies and onions.
8. Pour the vinegar dressing on top and serve.
9. You can also keep it in a fridge for a day and serve cold.
image credit: jane
Subscribe to our Newsletter
Receive the latest recipes & kitchen tips !