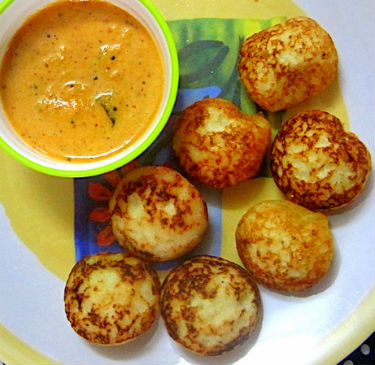 Ingredients:
Papaya – 1/2 to 1 cup, sliced
Idli (Parboiled) Rice – 200 gms
Urad Dal – 4 tsp
Fenugreek (Vendhayam) – 1 tsp
Ghee – 100 ml
Coconut – 1 cup, grated
Method:
1. Combine the rice, dal and fenugreek in a bowl.
2. Soak them in water for 60 minutes.
3. Add coconut and grind to a smooth batter.
4. Mash the papaya slices and add to the batter.
5. Grind again till well mixed.
6. Pour the batter into greased idli moulds or paniyaram pan and cook till done.
7. Remove and serve.
Note: image is for illustration purposes only and not that of the actual recipe.
Image credit: Ashwini
Subscribe to our Newsletter
Receive the latest recipes & kitchen tips !