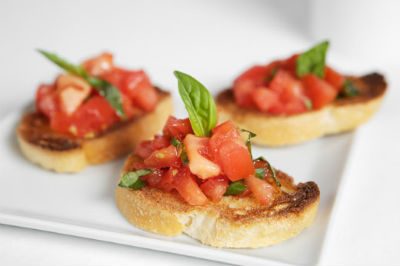 Ingredients:
Bread Slices – 5 to 6 , thick
Extra Virgin Olive Oil – 1 tblsp
Garlic – 1 small clove, sliced lengthwise in half
Tomatoes – 1 cup, ripe, chopped, seeded
Mint Leaves – 1 tblsp
Balsamic Vinegar – 1/2 tsp
Salt as per taste
Pepper Powder as per taste
Method:
1. Grill the bread slices on both sides until toasted.
2. Apply olive oil on one side and rub with the sliced garlic clove.
3. In a small bowl, mix the tomatoes, mint leaves, vinegar, salt and pepper.
4. Add 2 to 3 tblsp of this on the bread slice.
5. Serve at once.
image credit: hamby catering