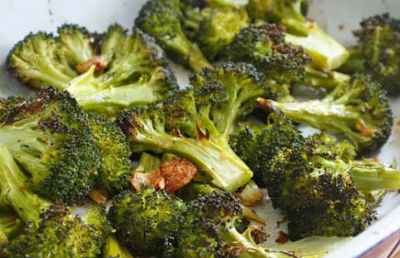 Ingredients:
Broccoli Florets – 150 gms
Oil – 1 tblsp
Ginger – 2 tsp, chopped
Garlic – 1/2 tsp, chopped
Water – 1 1/2 tblsp
Sesame oil – 1/2 tsp
Salt as per taste
Method:
1. Heat oil in a pan over high flame.
2. Add the ginger, garlic and salt.
3. Stir for 10 seconds.
4. Add the broccoli and toss well.
5. Cook till the florets start to wilt, about 45 seconds.
6. Add water and cook for a minute more.
7. Cook till broccoli is tender but still crisp.
8. Add sesame oil and toss well.
9. Transfer to a plate and serve warm.
Note: image is for illustration purposes only and not that of the actual recipe.