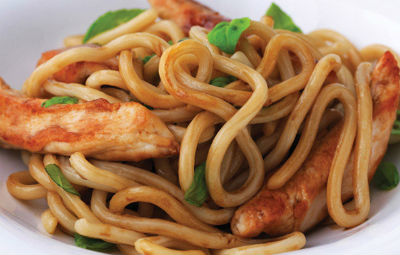 Ingredients:
Chicken Breast – 1, skinless, sliced
Soy Sauce – 1/2 tblsp
Honey – 2 tsp
Noodles – 150 gms, thick (any thick wheat noodles is ok)
Basil Leaves – few, torn
Sesame Oil – 2 tsp
Method:
1. Heat oil in a large pan over medium flame.
2. Stir-fry the chicken for a few minutes until golden.
3. Remove and keep aside.
4. Add the soy sauce and honey.
5. After a minute add the chicken and noodles.
6. Stir well until the chicken and noodles are nicely coated with the sauce.
7. Garnish with the basil leaves and serve at once.