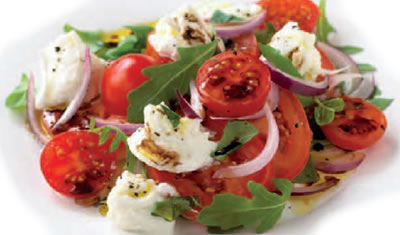 Ingredients:
Tomatoes – 4, small, ripe, sliced
Cherry Tomatoes – 3, halved
Red onion – 1/2, small, finely sliced
Balsamic Vinegar – dash
Mozzarella Cheese – 110 gms, crumbled or cut into small pieces
Sea Salt
Black Pepper Powder
Extra Virgin Olive Oil
Basil Leaves – few, torn
Arugula Leaves – handful
Method:
1. Place the tomatoes, red onions and basil leaves in a bowl.
2. Drizzle over the olive oil.
3. Add salt and pepper.
4. Toss well.
5. Arange the arugula leaves on a plate.
6. Drizzle more olive oil and vinegar.
7. Sprinkle some salt and pepper powder.
8. Add the tomato mixture.
9. Scatter the mozzarella and basil leaves.
10. Drizzle some more olive oil and vinegar.
11. Serve.