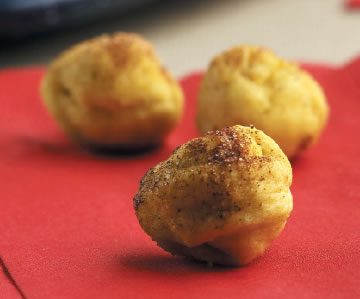 Ingredients:
Bread Slices – 6, crusts removed and halved
Butter – 4 tblsp
Sugar – 1/2 tblsp
Cinnamon Powder – 1/2 tblsp

Method:
1. Roll the halved bread slices into a ball and keep them on a baking tray.
2. Melt the butter and drizzle over the bread balls.
3. Mix cinnamon powder and sugar.
4. Sprinkle them over the bread balls and bake in a preheated oven at 350F for 3 to 5 minutes.
5. Remove and serve as a snack.